India and Northern Sea Route
What is NSR? 
The Northern Sea Route (NSR), or the Northeast Passage (NEP),

connects the eastern and western parts of the Arctic Ocean. 

While the

Suez Canal route

(depicted in blue in the image below) between Europe and Asia has a distance of

21,000 kilometers,

the NSR (in red) has a distance of

13,000 kilometres,

reducing the to and fro sailing time from one month to less than two weeks between Europe and Asia.
The

2021 blockage of the Suez Canal,

which forms part of the widely-used maritime route involving Europe and Asia, has led to greater attention on the NSR. 

With most of the NSR abutting its northern landmass,

Russia

has played a major role in its development. It approved a US$29 billion development plan for the NSR in 2022, effective till 2035. 

Heavily dependent on the Suez Canal route for its critical energy and rare minerals imports,

China

, too, has emerged as an active player in the NSR's development.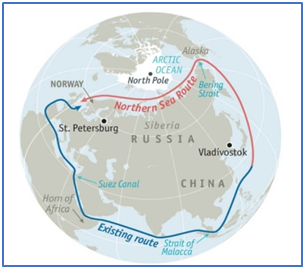 Why in News?
Murmansk

, popularly called the capital of the Arctic region and the beginning point of the Northern Sea Route, is witnessing the rising trend of Indian involvement in cargo traffic. 

India has been showing greater interest regarding the NSR for a variety of reasons.
Why is the Arctic region significant to India ? 
The

vulnerability of the Arctic region

, which is above the Arctic Circle and includes the Arctic Ocean with the North Pole at its centre, to unprecedented changes in the climate may have an

impact on India

in terms of

economic security, water security and sustainability. 

The region also constitutes the

largest unexplored prospective area for hydrocarbons remaining

on the earth. It is estimated that the region may hold

over 40 percent of the current global reserves of oil and gas.

There may also be significant reserves of

coal, zinc and silver.

 

However, the government's

Arctic Policy of 2022

mentions that the country's approach to economic development of the region is guided by UN Sustainable Development Goals. 
How old is India's engagement with the Arctic? 
India's engagement with the Arctic can be traced to the signing of the

Svalbard Treaty

in 1920 in Paris and India is undertaking several scientific studies and research in the Arctic region. 

Apart from setting up a research station,

Himadri

, at Ny-Ålesund, Svalbard, in 2008, the country launched its

inaugural multi-sensor moored observatory

and

northernmost atmospheric laboratory

in 2014 and 2016 respectively. 

In 2013, India became an

observer-state

of the

Arctic Council

along with five others including China.